Ingredient and content : green tangerine juice extraction 5%, purified water, refined sugar, citric acid, oligosaccharides, vitamins C, carthamus yellow, synthesized flavoring agents(tangerine, lemon)
Capacity : 350ml x 20bottle/box
Expiration date /packaging material : 2year/PET
Manufacturer : JUYOUNG International Co., Ltd.
HALAL CERTIFICATE / Jeju Islamic Cultural Center/July 26, 2015
MIOJEJU is made of green Jeju tangerines harvested in August and September.
These green tangerines contain a lot of flavonoids(10 times greater than yellow mature tangerines).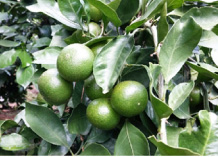 JEJU GREEN TANGERINE AND MIOJEJU
1. Rich flavonoid contents
Among flavonoids extracted from immature tangerines, hesperidin inhibits the differentiation of fat cells. This drink is helpful for beauty treatment.
2. Fresh fruit drink
Other tagerine drinks amde with mature tangerines are concentrate-diluted drinks with less freshness. However, this product is very refreshing and made with fresh juice.
3. Efficacies of Jeju Green Tangerine(Antiobesity, Antioxidant, Anticancer)
Hesperidin, a flavonoid derived from citrus fruits, inhibits the differentiation of fat cells, and pectin makes you feel full, controlling food intake, and Carotenoid and phenol inhibit the creation of free radicals, one of the major causes of aging and adult diseases. Flavonoid and limonoids inhibit the initiation of cancer. In particular, it is very effective in reducing the risk of prostate cancer and pancreratic cancer. In addition, it is good for preventing high blood pressure and high cholesterol.