100% ORGANIC YOUNGGYUL(SUDACHI) JUICE
100% Younggyul juice is made of the whole organic Younggyul fruit including rind in which more vitamin C and flavonoid eriocitrin are abundant.
It can be served as sauce for salad dressing or natural vinegar for soba, udon, sushi or meat dishes. It can also be enjoyed with alcoholic beverages.
This 5ml portable package is easy to be carried for any place and any time while in travel, work out at gym, at office, or at restaurant. It can be served with water or without water depending on preferences.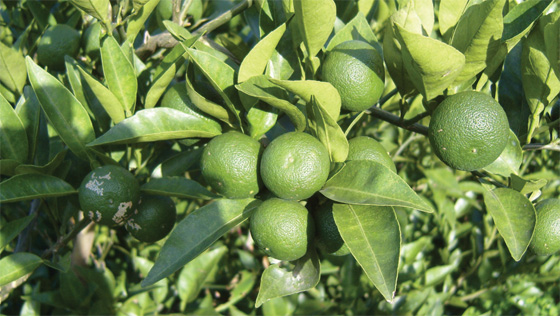 Sudachi Younggyul is a small, round, green, Japanese citrus fruit that is a specialty of Tokushima Prefecture in Japan. It is a sour citrus, not eaten as fruit, but used as food flavoring in place of vinegar, juice, tea or others. It is considered to have a zestier flavor and aroma than lemons or limes. It also boasts a higher calcium and ascorbic acid (vitamin C) content than lemons. Sudachi flavored products (such as ice cream, vodka coolers, ice pops, and soft drinks) can also be found in Japan, particularly in Tokushima Prefecture. The ability of the sudachi to promote the body's calcium absorption has been studied as well. In 2006, a Tokushima University research team published a report which suggests that the fruit may be effective in lowering glucose levels in diabetic patients.[citation needed] The team gave rats sudachi zest over a one year period and found the glucose levels fell and the health of the rats to improve.
The flavonoid eriocitrin abundant in lemon and lime juices is present in comparable concentrations in sudachi juice, but is lacking in yuzu. Also, neoeriocitrin is found in sudachi juice and rind. Eriocitrin is an antioxidant reported to combat lipid peroxidation and like neoeriocitrin is said to block the formation of lipoxygenases involved in allergies and atherosclerosis. Also, the flavonoid narirutin is said to be the active chemical in the Wakayama Prefecture specialty citrus jabara (ja:ジャバラ) that is said to diminish the effects of pollen allergies. The jabara advertises that it contains 6 times the narirutin in yuzu, but sudachi juice also contains about 3 times as much as yuzu juice (20.1 mg per 100 ml, vs. 6.6 mg).