Hatseomcho black garlic
Namhaebomulsum Hatseomcho Black Garlic that was made by fermentation of the best quality garlics among Namhae-gun garlics.
It is a very good dry-type health food enjoyed by everybody regardless of genders and ages as a new concept Black Food with sweet and sour taste but without spicy taste and smell because of the fermentation of 100% geographically certified Namhae garlic in the "Garlic ripening room", without baking or boiling, at the optimal temperature and by only unique component of garlic for long time.
It contains so useful various minerals and rich amino acids in balance while preserving unique active ingredients of fresh garlic yet and its anti-oxidation nutrients, melanoidin compounds and sulfur compounds generated abundantly in the fermentation process, help to decrease blood cholesterol and improve blood circulation.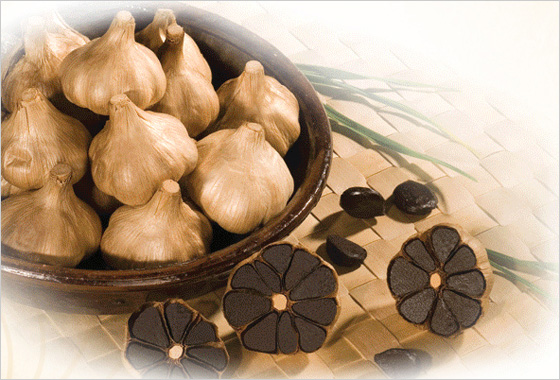 It is a whole bulb of 100% pure black garlic without adding anything.
Only good quality and much nutritious Namhae-origin garlic is used.
It is much more smooth and tastier than other products thanks to uniquely differentiated fermentation of Hatseomcho.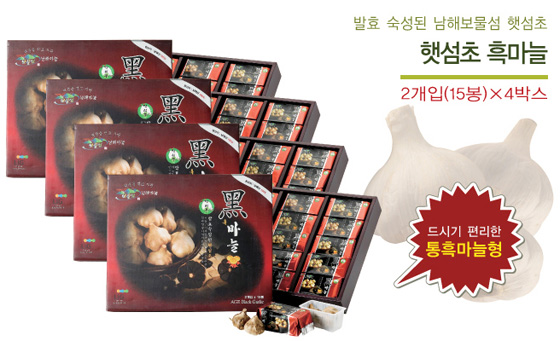 Calorie 190kcal (per dose)
Sugars 17g, Carbohydrates 38g, Protein 9g, fat 0g, Saturated fat 0g, Trans fat 0g, Sodium 10mg, Cholesterol 0mg
Product name: Hatseomcho black garlic
Specification: (2 pieces x 15 pack) 4box
Raw materials and content: 100% of Namhae-gun garlic
Recommended intake: Essence (2 pouches a day) / whole bulb of garlic (2 pouches of 2 pieces)