Honey Powder
We made Acacia liquid honey the honey powder using the patented low temperature drying method.
3g(Stick type) / 200g(Pouch) / 500g(Pouch) / 20kg(Bulk)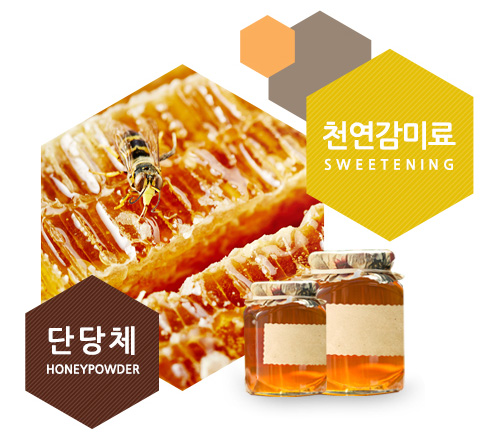 Natural sweetener replacing sugar, Honey Powder!Honey Powder can replace artificial sweetener or sugar.
As a natural sweetener to replace the sweet taste of sugar, it can be used in coffee or tea and can also be used in confectionery & bakery, rice cake, cookie etc.
The manufacturing method of Honey Powder using low temperature drying method
This was invented to manufacture Honey Powder using lowe temperature drying method and in more details, it is the method of heating the honey of undiluted solution together with high temperature and low temperature, evaporating water through temperature difference so that the dried honey can be made to granula, powder or other various types and thus, honey powder is made using the low temperature drying method.
Application
Sugar alternative tasting sweet
Usable to confectionery and bakery
Easy to use for instant food
Able to utilize seasoning or sauce
Can be used in tea instead of syrup
Honey Powder is preferred to undiluted solution Honey