Hongjindan
Product code : A12036
Content : 30g x 60 pills
Main Ingredients
6-year-old red ginseng concentrate (over 60% dry solid, ginsenosides Rb1+ Rg1=10mg/g) 100% * Composition of ginseng: Red ginseng root 70%, Tiny-sized root hair of red ginseng 30%
Dosage :
Take 1pill one times a day as it is or after diluting with water.
Storage :
Avoid storing under direct sunlight and in high temperature or high humidity and keep in a cool dry place.
Effect of Black Garlic
It is effective It makes blood in the body, lowers blood sugar level, protects liver, has an indirect effect on sexual behavior or reproductive ability by acting on the endocrine system, anti-inflammatory and antitumor activities, defends against radiation and even protects skin and makes it smooth. According to traditional Oriental medicine said that raw material to call Hongjindan extract makes a strong man in develop his stamina.
Red ginseng produces the physiological activating ingredients(saponins) beneficial to human body while steaming and maturing processes.
Saponins are a class of chemical compounds called ginsenoside and Classified into subclasses as Rb1, Rg1,... which is the distance that ginsenosides travel up.
Rb1: Inhibition of central nervous system, alleviation of fever or pain and protection of liver functions, Rg1: Improv-ement of ability and anti-fatigue function
Features of product
This product is made in pill for easy and convenient taking containing red ginseng instead of ginseng with valuable herbs.
Each pill is packed in premium gold foil envelop which is packed in transparent bottle which cap is covered with gold, and packed in high quality wooden box so that it is high premium gift to family or your valuable customers.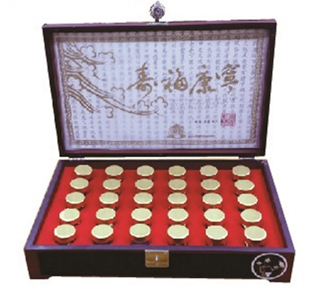 Product code

A12035

A12036

Pack

3.5g x 30pills

3.5g x 60pills

(3.5g x 30) x 6

(3.5g x 30) x 4

Package size(mm)

380 x 235 x 85

380 x 235 x 150

538 x 387 x 370

538 x 387 x 370

CBM

0.07703

0.07703

Weight(kg)

8.88

11.28